Jerkbaits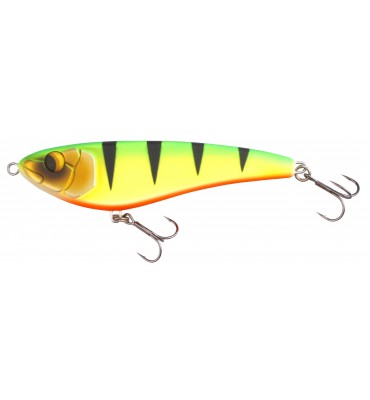 Regular price
€11.70
-30%
Price
€8.19
The 16cm Deviator is a great glider with a seducing side to side motion on retrieve and a great "hang" in the water. The shape and size of this lure matches many prey fish and will be deadly throughout the year. Fishes from 50cm – 1.5m. Light trace recommend. Equipped with extra strong forged spilt rings and high quality treble hooks. 16cm - 68gr  - Slow...
Regular price
€16.00
-30%
Price
€11.20
  17cm - 100g - Slow Sinking
Jerking slow floating, long casting 130 mm - 23gr Saltwater treble #6 Deep diving 70-130 cm Low retriever: rolling Fast retriever: wide wobbling Regular retriever: wobbling & rolling Retriever "jerk": to stimulate the aggressiveness of the fish it is advisable to give strong accelerations with the rod in single or multiple sequence, so as to force...
Tipo (Type): sinking pencil bait Lunghezza (Lenght): 107 mm (4 1/8")Peso (Weight): 27 g (15/16 oz)Ancorette (Treble Hooks): super-sharp,corrosion resistant salt water treble hooks n° 2 Seaspin Très 3X #4Profondità di nuoto (Depth Range): 5-120 cm (0.2-4 ft)
Regular price
€17.90
-30%
Price
€12.53
Explore the great sport of lure fishing. The species specific kit's gives you a great chance to learn more about the species you choose to target. With the lures at the end your line – there is a good chance that you will land your dream fish! Japanese lure design and quality Competition grade treble hooks and split rings Superior swimming action...
Lead free construction Material: ABS plastic Ultra Sonic rattle balls Hook: VMC 9649 BN Hook size: #5 Stay On - double split ring hook mount Designed and developed in Scandinavia 7cm - 18gr
• Optimized flexibility• Realistic eyes• Easy action shad tail• Slim body design with great belly flash• Hand painted detailed colors Size 14cm - 42gr 1 piece / pack