Trout & Salmon Spoons
Pack of barbless spinners with silver spoon and blue dots for trout fishing. Only available in model: Nº2 - 4.2gr 2 Units / Pack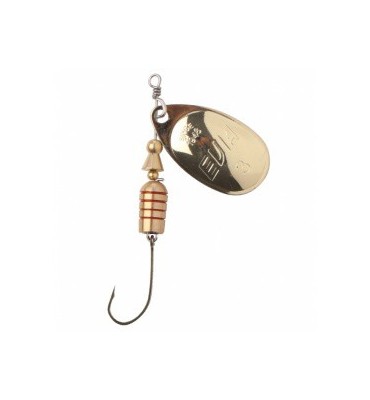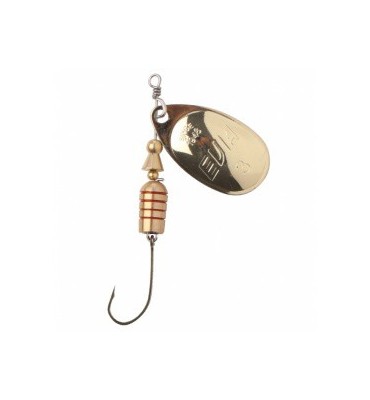 Barbless spinners for trout fishing. Only available in model: Nº2 - 4.5gr
Regular price
€5.10
-30%
Price
€3.57
Classic salmon spoon with a genuine silver plating to ensure a maximum level of visibility. Comes fitted with doubled forged spilt rings and strong Black nickel tournament treble hooks. 8.3cm - 35gr 9.2cm - 45gr
Regular price
€4.30
-30%
Price
€3.01
The Pilgrim is a classically shaped lure that is extremely effective for salmon in Stillwater and rivers alike. The spoon is pressed out of a brass plate, it is then fitted with a scale pattern on the backside and painted with a proven colour combination. Mounted with quality stainless split rings and strong Mustad trebles. Sizes: 7.8cm - 22gr 8.9cm -...
Regular price
€4.20
-30%
Price
€2.94
The Ron Thompson salmon spinner are produced with the goal to have a spinner that will be effective on both up and down stream fishing. With the result in hand we are convinced that it will also be effective on other predators. • Made from quality components• Long cast body• Extra sharpened hooks• Immediate rotation Weight 30gr or 40gr
Regular price
€8.40
-30%
Price
€5.88
The massive success of our Caviar Tungsten spinners, had led to this innovative flying eel version, designed to fish the rivers for Salmon and big Seatrout! Tungsten body, inside paint eel, real silver plating and ultra sharp Japanese tournament treble hook –superb action!! 2 Sizes #3 - 16gr #3 - 23gr
Spinners for trout fishing. Models: Nº0 - 2gr Nº1 - 3gr Nº2 - 4.5gr Nº3 - 5gr
Spinners for trout fishing. Available in 3 models: Nº1 - 3gr Nº2 - 4.5gr Nº3 - 7gr
Spinners for pike and salmon fishing. Available with spinner of nº 4
Spinners for pike fishing. Silver Spoon - 12gr Treble hook tied with red wool
Spinners for pike and salmon fishing. Silver / Red Spoon (like picture) - Nº 3
Regular price
€3.30
-30%
Price
€2.31
The Savage Gear spinners are truly unique in quality and design. We bring new innovation to a very traditional lure type in a remarkable way. The Caviar spinners have a build in offset tungsten ball in the fish egg imitating body – giving unparalleled casting distance and a true "Non-kink" function. Sizes:  #2 - weight 6gr  #3 - weight 9.5gr  #4 -...
Regular price
€3.20
-30%
Price
€2.24
The Series of Savage Gear spinners is truly unique in quality and design. We bring new innovation to a very traditional lure type in a remarkable way, with unparalleledquality components and colours.  Sizes: #2 - 5.5gr   #3 - 8gr   
Special barbless hooks for replacement trout spoons  Black Nickel finish. Size 2 (#3 spoons) Size 4 (#2 spoons) Size 6 (#1 spoons) 10 hooks / pack
Regular price
€11.90
-30%
Price
€8.33
Assortment to little predators like trouts, bass, etc.. 4 Units