Jackets
Three layer AquaPro fabric gives unbelievably robust and entirely waterproof barrier for rain, snow and wind. Ensures the angler uncommon comfort in extreme weather conditions. The jacket has got the hood with two plane adjustment. The sleeves are finished with non-absorbent, velcro adjusted fasteners. There are waterproof zippers under the arms so that...
Unbelievably strong, barrier outer fabric with hydrofobic DWR layer covers the incredibly warm insulation inside of Prima Loft Gold Active 133g fibres. It guaranties full thermal comfort. Very cosy, lightweight jacket is equipped with adjusted clipped on hood. Waist is adjustable. Vast, double breast pockets will carry boxes and accessories. There are...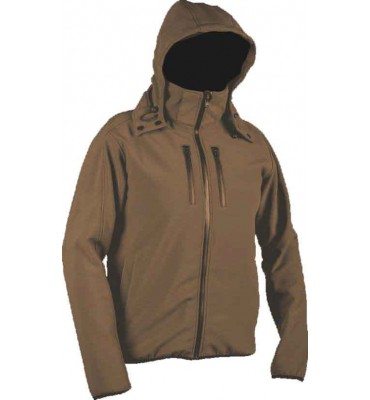 Unbelievably comfortable jacket, manufactured of extremely soft, pleasant softshell fabric. The jacket ensuring protection against wind and rain. It has got vast hood with adjustment, 2 pockets with waterproof zippers and 2 waist pockets with covered zippers for wader protection. Perfect shape for comfortable fishing. Softshell 330g With Membrane And...
The Softshell jacket ensures protection against wind and humidity. Perfectly fitting the body it is the best insulation. Recommended for wading. It will not damage your waders from inside and the zippers of waist pockets are covered with softshell fabric. There are also upper pockets with waterproof zippers. Softshell 330g With Membrane And Micro Polar...