Synthetic Tackle
Synthetic Tackle
Super thin silicone strips, very natural colors spotted for nymphs and dry feet.
A straight, strong, fine mylar with incredible reflective properties. Used in thousands of flies for wings, bodies, accent flash, or the entire fly like the Prom Dress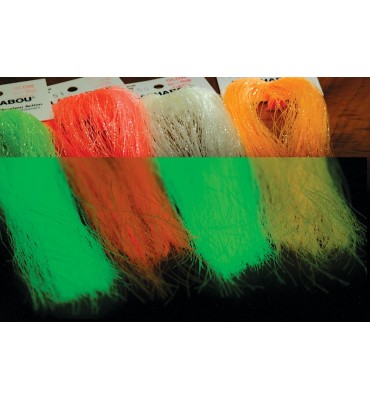 Glow in the dark to attract the most difficult fish.  Special to saltwater
Dyed pearl flashabou wider than give life to any model and minnow streamer.
More wider, longer and stronger than standard flashabou A straight, strong, fine mylar with incredible reflective properties. Used in thousands of flies for wings, bodies, accent flash, or the entire fly like the Prom Dress
Rubber Legs to tie streamers, poppers, and terrestrial nymphs 20 strands / pack
Twisted pearl Mylar with a characteristic drop light effect. Classic building material for streamers, it can also be used in small patterns to give them a touch of brilliance. The fibers create a more discreet light effect.  300 strands packaged in a clear plastic bag 60 x 233 mm
Superfine Grizzly  Rubber Legs to tie small streamers, poppers, and terrestrial nymphs