Synthetic Tackle
Dyed pearl flashabou wider than give life to any model and minnow streamer.
 A great thin film material for wings and wing cases without bulk and a little bit of "see through". Excellent for really small nymphs when you want a wing case or body case. 2 Sheets
Nylon fibers treated with protections (Water Shed) for increased the flotability. Ideal for dry tails.
Dyed pearlescent sheets for tying terrestrials, bodies and gammarus You can use like tinsel.
More wider, longer and stronger than standard flashabou A straight, strong, fine mylar with incredible reflective properties. Used in thousands of flies for wings, bodies, accent flash, or the entire fly like the Prom Dress
Great Looking Rubber Legs, Comes In Many Colors!This is the old familiar product that we have known for years. This comes in sheets that we separate fibers from for tying. Many great colors to choose from. This is a solid color as opposed to a translucent color; possibly more attractive in dark water or low light.
Quills flat deburring for tying dry flies, nymphs and others.   It does not break the fiber when tying it and admits granaries and UV resins without changing the color of the original tone.   Valid for hooks from # 22 to # 14
Twisted pearl Mylar with a characteristic drop light effect. Classic building material for streamers, it can also be used in small patterns to give them a touch of brilliance. The fibers create a more discreet light effect.  300 strands packaged in a clear plastic bag 60 x 233 mm
Like MayFly Tails, the spinner tails are nylon fibers for tying dry flies.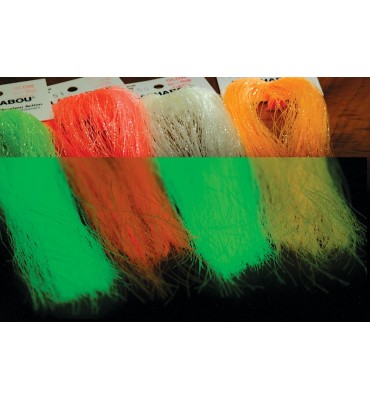 Glow in the dark to attract the most difficult fish.  Special to saltwater
Syntetic quill strips for nymphs and dries bodies.Two width measurements on the same sheet to adapt to different hooks.They don't lose color and don't break
Super thin silicone strips, very natural colors spotted for nymphs and dry feet.
Regular price
€3.90
-30%
Price
€2.73
An elastic tranparent fly tying material for use on Scudbacks, wing cases, nymph bodies, shrimp and crayfish shell bodies, etc. Has paper backing to facilitate cutting to desired shape. Can be used on flies from 2/0 to 22's.
A straight, strong, fine mylar with incredible reflective properties. Used in thousands of flies for wings, bodies, accent flash, or the entire fly like the Prom Dress