Shoes and Waders - OUTLET
Shoes and Waders - OUTLET
Regular price
€147.00
-30%
Price
€102.90
  Available with felt sole Read more below...
  Available with detachable studs. Read more below...
Regular price
€125.00
-30%
Price
€87.50
• Light and incredibly strong construction • Abrasion and tear resistant • Drain holes for ultra quick drying • High ankle cuffs for maximum support and comfort • Leather and mesh combination upper • Dirt repellent • Easy access and fit • Reinforced lace eyelets
Regular price
€199.00
-30%
Price
€139.30
 OFFER
Breathable wader with 3 layer laminated fabric. Sealed seams. Spacious outer front pocket with water-repellent zip. Read more below
Regular price
€79.00
-30%
Price
€55.30
The overall is by many anglers considered to be the best ever protection from cold and damp conditions. The Hybrid proves perfect climate control. Made with 95% polyester + 5% spandex in the upper part and polar fleece in lower part. Fitted two zippered chest pockets and articulated stirrups.
• 4.5mm Neoprene with fully sealed taped seams for a 100% waterproof wader • Elastic logo knitted shoulder straps with superior buckles • Exclusive V-shape front pocket w/mesh compartments and waterproof zippers • Detachable flip-over inner pocket w/zipper, mesh compartments & spring • 5mm embossed Max4 kneepad • Superior Neoprene-lined cold and...
Regular price
€149.00
-30%
Price
€104.30
• Riptide wading shoe with felt sole • Nubuk and mesh combination upper • Drain holes, quick to drain water • Hidden shoe lace system • Perfect fit with superior ankle support • Built-in toe guard • Strong and flexible materials for perfect fit • US carbide steel studs included on studded version
Regular price
€140.00
-30%
Price
€98.00
4mm soft cell Neoprene Chest pocket Fully insulated boots Reinforced knees and backside Velcro shoulder straps Felt soles
Regular price
€115.00
-30%
Price
€80.50
A 4 mm neoprene hip wader. Comes with belt straps and cleated sole. Only Size 44/45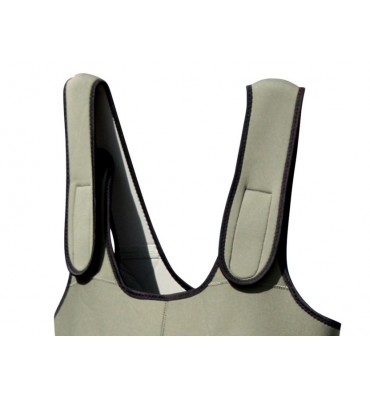 Regular price
€119.90
-30%
Price
€83.93
• Warm and comfortable wader • 4mm thick neoprene • Stitch and taping construction on all seams • Front hand warmer pocket • Adjustable neoprene suspenders • Reinforcement on knees • Fully 3mm neoprene lined PVC boots • Available with cleated sole.
An extremely comfortable and durable wader. Made using a premium 6-layer breathable system with a unique divers style waterproof  Read more below.....
Regular price
€310.00
-30%
Price
€217.00
• 100% waterpoof • 5 mm "high-stretch" neoprene • 100% waterproof front zipper • Two water resistant zippered welded front pockets • Taped and glued seams using a flexible and waterproof tape • Reinforced knee and butt pads • Adjustable shoulder straps Felt Sole
Regular price
€278.00
-30%
Price
€194.60
• 4-layer construction • Breathability: 3,500g/m2/24h • Waterproofness: over 20,000mm • Membrane: Finetex • Two water resistant front pockets • Inside pocket • Adjustable waist straps • Adjustable suspenders • Build-in mesh gravel guards with lace hook
Regular price
€189.00
-30%
Price
€132.30
CLEARANCE SALE - Only size 46/47 5mm High Stretch Neoprene  Pocket System with Water Resistant Zippers  Taped and Glued Seams  5mm Sock with Gravel Guards Built In  Reinforced Knee Pads  Easy Adjust Shoulder Straps with Wide Sturdy Buckles