Surfcasting Tackle
Bait clip, device to secure bait during cast. ø min line mm 0,40. ø max line mm 0,60 10 piece per bag,
It allows to tie the perfect loop of the desired size. (5-25 mm).
Six different sizes of elastic black ring-shock absorber. Easy fitting and removal. 12 pieces per bag in miscellaneous sizes
Adjustable neoprene handle. Adjustment by Velcro. Sold per unit.
Knot cover rubber suitable for all types of fishing. Its biconical shape allow easy passing through rod guides. Supplied in 3 sizes and 5 different colours is ideal for fly line-leader connection or for finishing of streamers and lures. 24 units / pack
Regular price
€3.50
-30%
Price
€2.45
• To be placed on the tip section • Green light ready • Red light, strike indicator • To be removed from rod when not used to save battery • Operates with 1pc CR1225/3v battery
Regular price
€149.00
-30%
Price
€104.30
• Lightweight triangular extending beach tripod• Weighs less than 2.5kgs!• Extending rod rest head• Detachable twin rod rest head• Sliding stabilizer bar & chain• Sliding butt rests• Luminous head & butt rests• Bait bucket hook• Fully extending: 108 x 186cm 2 Rods Capacity
Starlight holder with special "lock and slide" fit. Assemblage: insert the tip into Starlight-holder and push the slide in order to lock it on the tip. Size 4: Ø tip from 5,2 to 6,6 mm. Ø starlight mm 4,5-6 Green color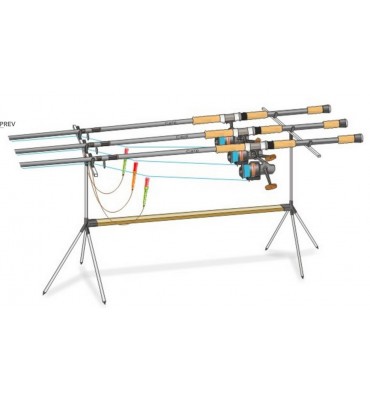 Bite indicator lightweight for surfcasting and carpfishing. Micrometer adjustment line release clip.Starlight mm 3 and 4,5 slot. 1 piece per bag,