Feeder Tackle
In-line feeder with hard mould with ejector button Size feeder 50 x 30mm Weight feeder 30gr 1 mould and 1 feeder / blister
Regular price
€4.50
-30%
Price
€3.15
In-line feeder with hard mould with ejector button Weight feeder 15, 20, 25, 40 or 50gr ONE mould and TWO feeder / blister
Regular price
€3.50
-30%
Price
€2.45
• To be placed on the tip section • Green light ready • Red light, strike indicator • To be removed from rod when not used to save battery • Operates with 1pc CR1225/3v battery
Ø int mm 2,4. Shrink to Ø mm 1,2 Ø int mm 3,2. Shrink to Ø mm 1,6 Ø int mm 4,8. Shrink to Ø mm 2,4 8 tubes bag 8cm / tube Total 64cm.
Small stainless steel clips designed for the attachment of several maggots.  They are easy to fix on the hook thanks to special small elastics that are supplied in two different lengths. Sizes: 1(Small) and 2(Medium) 6 pieces per bag
It allows to tie the perfect loop of the desired size. (5-25 mm).
Piccolo accessorio in gomma morbida con magnete integrato, permette il fissaggio temporaneo della canna all'autovettura o a qualsiasi superficie metallica. Utilissimo durante la fase di preparazione alla pesca, evita che la canna possa cadere a terra. 2 units / pack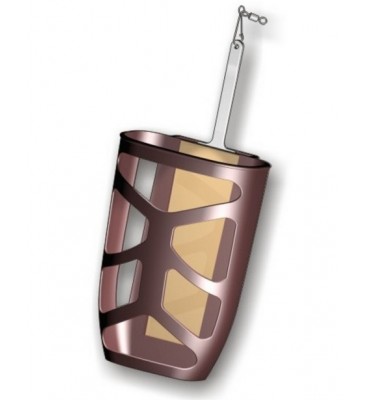 Big sizes open end feeders suitable for groundbait,  maggots etc. Ideal for big rivers and sea. Weight 30gr
The Portafinali  a hook length storage box designed to hold and protect a large amount of hook lengths. Read below... 2 sizes Size M - Hook lengths length 7 -10 -12,5 -15 -20 cm Size L - Hook lengths length 10 -15 -20 -25 -30 cm
Knot cover rubber suitable for all types of fishing. Its biconical shape allow easy passing through rod guides. Supplied in 3 sizes and 5 different colours is ideal for fly line-leader connection or for finishing of streamers and lures. 24 units / pack
Quick change beads, for quick change of feeders, leads etc.etc. 3 pieces per bag
Starlight holder with special "lock and slide" fit. Assemblage: insert the tip into Starlight-holder and push the slide in order to lock it on the tip. Size 4: Ø tip from 5,2 to 6,6 mm. Ø starlight mm 4,5-6 Green color
Device for tying a line to a fishing hook with soft touch handle. Size M: for very small hook sizes from nr.14 to 28, Size L:  for hook sizes from nr.6 to 18,
Stainless steel groundbait springs, designed to hold soft baits on the hook as paste, groundbait etc. Easy to fix thanks to small elastics that are supplied with the springs in two different lengths. Nº 2 - 8mm diam Nº3 - 12mm diam