Rockfishing Lures
Semi-jointed small fish with a fine, yet strong tail with a powerful rolling action, ideal for Jig Head, Offset and Texas rigs. 4.5cm - 7 units / pack 
Rigged vinyl eel fish. Length 10cm Weight 2.5gr Hook #1 Bags of 6 pcs.  
Regular price
€7.80
-30%
Price
€5.46
A complete assortment of artificial trout baits. In this package you will find three different natural bait imitations: Honey worm, maggot and earthworm, five pieces each in four super attractive colors. Read more......
Pherhaps the Westin lure most seller ever. Good colours and Japanese hooks 1st quality The kit has 2 bodies + 1 jig head (5gr - 7cm) and 2 bodies + 1 jig head (7gr - 8cm) Total --> 4 bodies + 2 jig head
Regular price
€7.90
-30%
Price
€5.53
Body made in everlasting formula, super soft but 50 times stronger than PVC Double tail designed for maximum vibration Grub body and skkirt button  2' (5cm) - 6 units / pack Please read below, it's important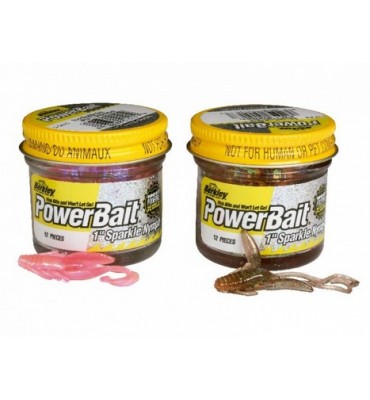 Regular price
€6.90
-30%
Price
€4.83
Berkley Power Bait Honey Worms are formulated for trout and other predatory fish. Emulates a nymph insect 30mm 12 units / pack Pink or Brown (Smoke) colour
Rigged shrimps or prawns. Size: 25mm and 40mm Colour: Fluorescent. Bags of 20 pcs.
This small, perforated tail grub is a classic for jig head fishing, with increased power of attraction afforded by the tail perforations. Length 5.5cm Bags of 10 pcs.
Perfect imitation of fry fish it is an effective weapon in keen fisherman's hands. The lure developed and manufactured with unbelievable precision. Rip is simply irresistable for predators. Recommended for perch, pike, asp and pike-perch. Size 7.5cm - 10 units pack