Rod Bags
Tough protective bag designed to carry up to four or eight rods, complete with adjustable padded shoulder strap with foam padded handle. 2 adjustable retaining straps, quick release buckles and padded interior SIZES: T.L: 4 Rods 144x15x10cm T.XL: 8 Rods 144x20x15cm
Box type bag, in nylon Cordura, very strong with reinforced bottom. Velcro fastenings for various reel mounted rods. Large outside pocket with Velcro fastening. Large adjustable padded straps for carrying like a backpack or shoulder bag. Size: 140x16x16 cm
Shaped for rod and reel combo, space for two rods. Outside pocket 120 x 11cm. Length 170x30 cm
Light nylon Cordura type bag with reinforced bottom and Velcro fastener. Adjustable padded shoulder strap for carrying. Size: 130x15 cm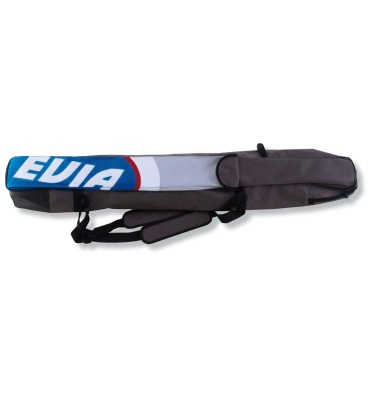 Box type bag, in nylon Cordura, very strong with reinforced bottom. Central zip fastening. Two Velcro closing outside pockets. One outside pocket with two fastening tapes. Large adjustable padded shoulder straps for carrying on back. Size:180x13x17 cm
Regular price
€26.60
-30%
Price
€18.62
Adjustable length of the sleeve and adjustable reel pouch position, they can be used with any size of rods and reels. For single rod • Waterproof and Rip-stop fabric• Padded• Adjustable shoulder strap• Adjustable reel pocket• Can fit rods from 9ft to 15ft
Regular price
€42.60
-30%
Price
€29.82
Adjustable length of the sleeve and adjustable reel pouch position, they can be used with any size of rods and reels. Ideal for 2 rods • Waterproof and Rip-stop fabric• Padded• Adjustable shoulder strap• Adjustable reel pocket• Can fit rods from 9ft to 15ft
A high-end bag for your carp rods, especially designed for best possible protection of rods and reels. Both separated rod-compartments, with embedded shock resistant inner-shell, offer enough space for one rod with reel each. Inside, the bag is very well padded and each rod can be individually fixed to allow best possible protection of your rods. Even...
This Super-safe rod tube for an assembled bait-cast rod is the ideal choice when you need to protect a single-piece rod and reel from impact damage. The length of 2.10m will accommodate most conventional bait cast rods. Length 212cm
Tried and tested improvement was our motto for this rod transport tube. SUPER SAFE by SPORTEX is the perfect protection for your high-quality, rigged spinning rods. The SUPER SAFE lining is padded on the inside. An integrated, special reel box facilitates the insertion of the complete assembled rod. At home, simply hang your assembled equipment by the...
With 3 compartments for 3 rigged or several unrigged rods. Outstanding padded lining for total reliability. Padded shoulder strap and high-quality zip fasteners as for all SUPER SAFE models 70% Nylon, 30% PVC Length 190cm
Four compartment rod bag will contain eight rod tubes with ease. There are pockets under the cover for lines, monofilament and small accessories. The bag has got soft neoprene handle and the arm belt. 91 x 30 x 14cm
• Rigid, padded surfcasting carrying case. • Extremely wear resistant fabric and large, plasticized zip, for enhanced resistance to salty environments. • 2 side pockets. • 2 Measurements: Length: 160x20x15 cm
• Lightweight, rigid surfcasting carrying case. • Extremely wear resistant fabric and hard base for enhanced rod protection. • Large zip, resistant to salty environments. • 3 outside pockets for accessories. Length: 160x17x10cm
• Rigid surfcasting carrying case with folding aluminium legs. • Sturdy and stable. • Large, plasticized zip. • 3 side pockets. Length: 160x17x10cm