Leaders Mono
Hi-tech materials allow this small diameter Tippet material to have added strength, yet present your fly with a delicate touch.  The Tippetmaster® Spool makes material dispensing simple and organized.  Sizes: 3X  -  8.2 Lb - 3.7Kg - 0.20mm 4X  -  6.2 Lb - 2.8Kg - 0.18mm  5X  -  4.9 Lb - 2.2Kg - 0.15mm 6X  -  3.2 Lb - 1.5Kg - 0.13mm 8X  -  2.2 Lb -...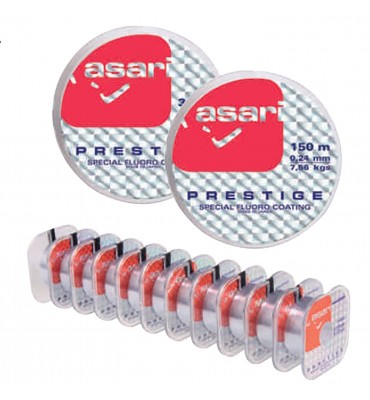 Made from a new generation fluoro-coated line, with an unsurpassed softness. Smoothness concept, greater breakage resistance and revolutionary behaviour under stress. 100m Spools 0,16mm - 3.47 Kg 0,18mm - 3.85 Kg 0,20mm - 5.42 Kg 0,22mm - 6.65 Kg 0,24mm - 7.56 Kg 0,26mm - 8.82 Kg 0,28mm - 11.12 Kg 0,30mm - 12.34 Kg  
Regular price
€4.30
-30%
Price
€3.01
Can be used for reel or pole fishing in the same way. Structure similar to a fluorocarbon: sinking, neutral color with high transparency and high resistance to abrasion. Perfect for Bolognese, Spinning and Surf Casting fishing. High tensile strength compared to the diameter of the monofilament, thoroughly tested and wich guarantee high quality and...
Regular price
€5.90
-30%
Price
€4.13
This line is specially designed for making leaders The leader is surely the most sensitive part of our rig. It makes no sense fishing with good rods, reels, hooks, etc. .. and fishing with a low quality leader.A translucent monofilament without memory and a little elastic, which helps absorb the energy of the first fish pulls. Available in spools of 50m...
Professional Japanese monofilament covered with fluorocarbon coating has top technical parameters. Read below... Sizes: 5X  -  6.4 Lb - 2.9Kg - 0.153mm 6X  -  5.1 Lb - 2.3Kg - 0.122mm 7X  -  3.8 Lb - 1.7Kg - 0.107mm 8X  -  3.1 Lb - 1.4Kg - 0.096mm   Available in 50m