Fly Rods
Regular price
€225.00
-20%
Price
€180.00
The Competition Nymph rod lineup are 4 piece rods. Although these rods are versatile tools, the primary design focus is precise European Style nymphing.  The rods feature a matte black finish that helps the rods dampen extra vibration quickly, so your rod tip doesn't throw extra shock waves down your presentation after each cast. Read more below....
The Fairplay PRO 9' #4/5 - 4 sections features a graphite composite rod blank perfectly matched with a graphite matrix composite reel. The rod is fitted with an aluminum reel seat and a premium cork handle. The reel has a solid drag system and quick release spool button. The kit is preloaded with a high quality 90ft floating fly line and 150ft of backing. 
OFF Only 9' #5 - 4 sections Please, read below...
Cortland's Nymph series fly rods were specifically designed for modern nymphing techniques. Built on a super light graphite blank which dampens and recovers quickly for exceptional feel. The low reflective, matte black finish allows for an extremely stealthy approach while providing an addition layer of protection. The down-locking reel seat combined...
Regular price
€680.00
-30%
Price
€476.00
Built using carbon fiber of military grade modulus and resins, these rods have been designed and built utilizing over 30 years of top level competition experience from the Cortland Prostaff. The balance of the weight and the main power in the butt section paired with a downward locking reel seat for this technique is paramount. An ergonomic fighting butt...
Regular price
€56.00
-30%
Price
€39.20
• High quality carbon technology • Carbon wrapping • Slim and powerful blank • Cork handle • SiC shooting guides • Gun smoke snake guide 9' (270cm)  #5/6  - 2 sections - Transport Lenght 141cm - Weight 110g
Regular price
€86.00
-30%
Price
€60.20
See the video below...... - high Carbon module, with braiding spiral  - 4 elements, Weight 120gr, Transpor Legth 70cm - ergonomic cork handles  - treated Rings anti corrosion  - light serpentiform Rings  - Medium fast action  - perfect fly fishing line control  - Tested individually
Regular price
€105.00
-53%
Price
€49.35
Supplied with two intermediate sections marked "Fly" and "Nymph", the use of either section modifies the action of the rod for use with dry or nymph tandem interchangeably. Size 10' # 4 - 3 sections - (2 Intermediate Sections) 
Regular price
€351.00
-30%
Price
€245.70
Features:   Built on Japanese 46T high quality Carbon blanks Medium to fast action ALPS custom made, saltwater resistant, aluminium reel seat, with unique 1-K Carbon Cone body Highest grade of Portuguese cork handles Supplied in quality tube with protective rod sock.
Regular price
€347.00
-25%
Price
€260.25
  MODELS: 10' #3 - 4pcs - Weight 76gr - Guides SF 10' #4 - 4pcs - Weight  79gr - Guides SNL 11' #3 - 4pcs - Weight  98gr - Guides SF    Read more below...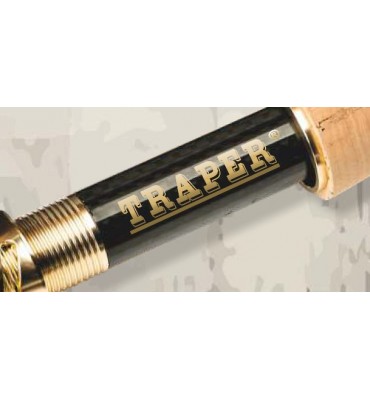 Regular price
€347.00
-25%
Price
€260.25
  MODELS: 9'6 #7 - 4pcs - Weight 77gr Read more below...
Four compartment rod bag will contain eight rod tubes with ease. There are pockets under the cover for lines, monofilament and small accessories. The bag has got soft neoprene handle and the arm belt. 91 x 30 x 14cm
Regular price
€295.00
-45%
Price
€162.25
  MODELS: 9' #3/4 - 4pcs - Weight 73gr 10' #3 - 4pcs - Weight 80gr 10' #4 - 4pcs - Weight 80gr   Read more below...