Fly Reels
Ideal for lines  #7/8/9/10 Reel + 3 Large arbour spools + reel bag Sizes: # 7/8/9/10  -  Weight 8.oz  
Fairplay series reel pairs well with Cortland Fairplay 5/6 WT fly rod. The reel is preloaded with 65 feet of WF floating fly line and 150 feet of backing. The 5/6 WT model is ideal for smaller species, including trout and pan fish. Key features: large arbor strong disc drag; left or right hand retrieve; graphite construction; lightweight.
Regular price
€165.00
-30%
Price
€115.50
  Two Sizes Model 1: For 3 and 4 weight lines/rods Model 2: For 4 and 5 weight lines/rods 
Regular price
€59.90
-25%
Price
€44.93
Fly Reel Dynacast Graphite, very light and it has a good brake. To Bass, Pike, Salmon... etc Large Arbour Reel. Only Line #7/8
Regular price
€90.00
-30%
Price
€63.00
Avalanche Fly Reel aluminum. Large Arbour Reel.
Regular price
€209.00
Price
€149.00
The large arbor Scierra XDA Reel is a high quality. It features a relatively simple but very strong construction as well as a smooth and stable drag system, and it perfect for both saltwater and freshwater fishing.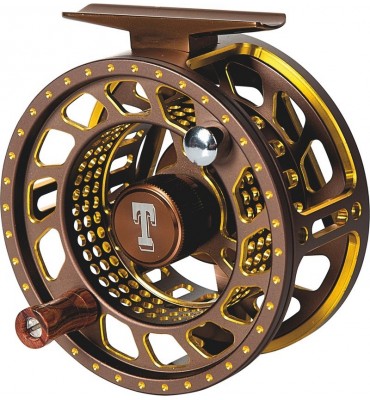 Line #7/8Weight 202gr - Diameter 95mm - Width 30mm - OPENWORK CONSTRUCTIONLARGE ARBOR CAPACIOUS SPOOLCHEMICAL OXIDATIONSCRATCH PROOF SURFACEWATERPROOF, SALT WATERPROOF DRAGMULTI DISC DRAGNEOPRENE CASE